HIGHLIGHTS
WUUK Doorbell is advanced smart doorbell.
WUUK Doorbell can work as CCTV camera at your Doorstep.
WUUK Doorbell can record video in HD resolution.
---
W
e all want to ensure that our houses are safe from unwanted visitors. We do everything we can to make our homes more secure and protected. As technology has improved over the years, so have our security measures. From CCTV cameras to smart locks, we have come a long way. Enhanced security comes at a cost as installing these devices can cost hundreds of dollars. In this article, we are introducing a product that not only makes your home secure but also transforms your home into a smart home. This product is WUUK: The World's Most Advanced Smart Doorbell.
WUUK provides you with an affordable and convenient way of boosting the security of your premises. Although it is a doorbell, WUUK comes with a camera that is capable of recording HD videos. When anyone rings your bell, the video signal will be transmitted to your phone, showing you who is at the door. Installation is pretty straightforward and can be done by anyone in less than a minute. The product comes with loads of other features that we will be talking about shortly.
WUUK – OVERVIEW
WUUK is indeed a smart doorbell and appears something out of a sci-fi movie. Imagine answering your doorbell even when you are not at home. Sounds nice and innovative. It is cheaper and better than the other smart doorbells available in the market. WUUK is currently up for a crowdfunding campaign on Indiegogo.
WUUK offers you a practical way of monitoring your doorstep and communicating with visitors. It's a perfect amalgamation of form and function elegantly designed around a smart camera of 1536×1536 resolution, with AI facial recognition and IR night vision.
The camera spans over 162 degrees and records HD videos of 1:1 ratio which eliminates any prospects of blind spots.
WUUK is very easy to install; even a child could do it. However, the same cannot be said for stealing it. The bell has a built-in alarm mechanism if someone uses force to remove the doorbell.
For a gadget, WUUK is more robust than you'd imagine and can withstand harsh conditions. Once fully charged, the battery life can last for almost 8 months. It is IP65 waterproof and can work perfectly in temperatures from -20 degrees to 50 degrees Celsius.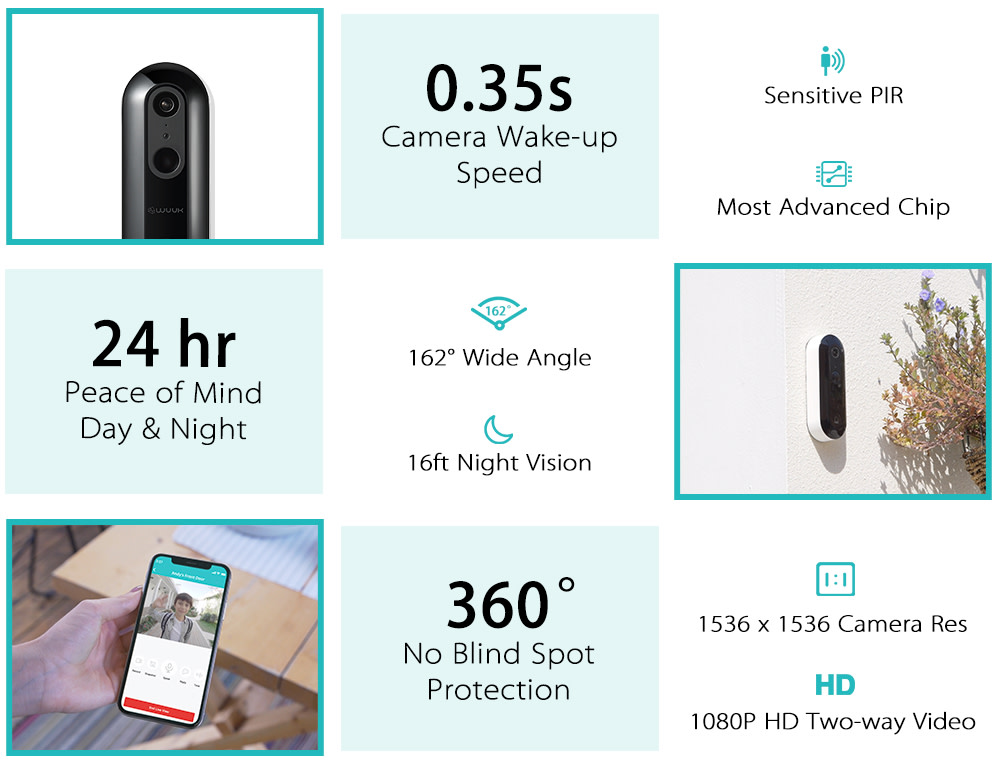 WHY – WUUK
Every one of us is continuously worried about the security of our loved ones and belongings. We do everything we can to make sure that they are safe and secure. The designers of WUUK understand that, and they are here for you with this revolutionary product.
WUUK provides you with an affordable solution to enhance the security of your residence elegantly.
The product gives you the ability to answer your door from anywhere. Its motion sensors will detect if anyone is near your door and sends a notification to your phone with a 0.35s quick wake-up speed. If the bell is rung, then WUUK will start a two-way video call with your visitor. You can even send a pre-recorded voice message if you are too busy to take the call.
WUUK also captures image data and uses AI for facial recognition. You can view all the people who visited your house and label a few of them as frequent visitors.
When it comes to protecting you, WUUK also has IR night vision that works up to 16 feet. You can even change your voice while communicating with any unwanted visitors. WUUK works day and night, tirelessly, to keep you and your family safe.
One additional perk of WUUK is that it comes with a built-in Wi-Fi amplifier, in case your Wi-Fi router is too far away from the doorbell. You can enjoy high-quality images and video calls without worrying about Wi-Fi signal dropping.
This product is designed for those who want that extra bit of safety, while also giving a more futuristic look to their house.
WUUK – DETAILED SPECIFICATIONS
Here are the detailed specifications for you.
Max video resolution – 1536 x 1536 Pixels
Lens field of view – 162 degree diagonal
Wake-up speed – 0.35 seconds
Night view – 16 ft IR night vision
Battery capacity – 6700 mAh
Battery life – Up to 8 months
Storage – 48-hour free cloud storage/ SD card
Operating conditions – -20 degrees Celsius to 50 degrees Celsius
Waterproof – IP65
WUUK app compatibility – iOS and Android
Chime Wi-Fi range – 980 ft./300 m
In the box, you'll get the following items.
180-degree mount
Locating pad
Chime and plug
WUUK doorbell
Charging cable
3M VHB double-sided tape
Releasing pin
Installation tools and screws
WUUK – PRICE AND AVAILABILITY
Currently, the product is up for a crowdfunding campaign on Indiegogo. The team came up for the idea for WUUK in early 2019, and they launched the campaign in November after beta testing their devices. In December, they shipped the first batch of production consisting of 300-500 units. They have managed to raise more than $700,000 from more than 7000 backers since their campaign began and are hopeful of shipping the next batch. You can pledge as little as $90 and get your own WUUK smart doorbell. The company wishes to take more orders in January and ship them simultaneously. Shipments could be delayed due to unexpected issues like product development or financial challenges. If everything goes well, the company should create awareness about their product and prepare for a full-scale launch by next year.
WUUK – ABOUT COMPANY

WUUK Labs is the company that has designed WUUK smart doorbell. It is founded by 4 cohorts, all of whom have experience in working in Silicon Valley tech companies. They realised that ordinary people struggle to find optimum and cheap smart devices that can solve their problems. They set out on a mission to provide cheap and better smart devices that can transform our daily lives. By designing simple and innovative products like the WUUK smart doorbell, they want to solve the real-world problems faced by us.
ALSO READ :