Are you planning to buy your new E-Book reader? Ebooks are gaining popularity in recent years because of its portability, easy to handle, long battery hours and easy to get the feeling like paperbook. In this post we are going to highlight the best E-Book readers in 2020. Our team of reviewers are using these individually and gathered their own experiences in this post.
ALSO READ : How to buy best e-book reader in 2020 – Buyer's Guide?
The Best E-Book Readers for 2020
If you are looking for the latest Kindle e-reader, this is the CNET Editors' Choice in the category. It is the thinnest, lightest Kindle Paperwhite ever – having high resolution 300 ppi glare free display, visible even in bright sunlight, making it comfortable for reader. Now comes with new typography, layout features and twice the storage – 8GB making it your personal portable library. Now being   waterproof makes reader free to read and relax at the beach, by the pool or in the bath. The built-in adjustable light allows you to read indoors and outdoors, both day and night. Also a single battery once charge lasts for weeks not hours. It holds thousands of books. Choose from new releases and bestsellers in Hindi, Tamil, Marathi, Gujarati, and Malayalam.
It comes with 6 inch Paperwhite display with Carta e-paper technology and built in light, 300 ppi, optimized font technology, 16 level grey scale. It is having size of 169 x 117 x 9.1 mm and weight 217 grams. To get the most out your kindle Paperwhite, there are interesting tricks. Having difficulty in seeing words or want more words on the page? Just flick your fingers to change the font size: just pinch and zoom to adjust. If you want to save battery life just switch your kindle to airplane mode when you are not downloading books. No extra requirements fully wireless and doesn't require a computer to download content.
What We Like
Adjustable built-in light, easy to read in dark and sunlight.
Long lasting battery (up to 2 weeks).
Waterproof.
Sleek design and a glare-free display.
Best typography.
What we don't Like
Not having page turn buttons.
It doesn't include charger.
Not having adjustable warm light.
Read Full Specs
Read Full Review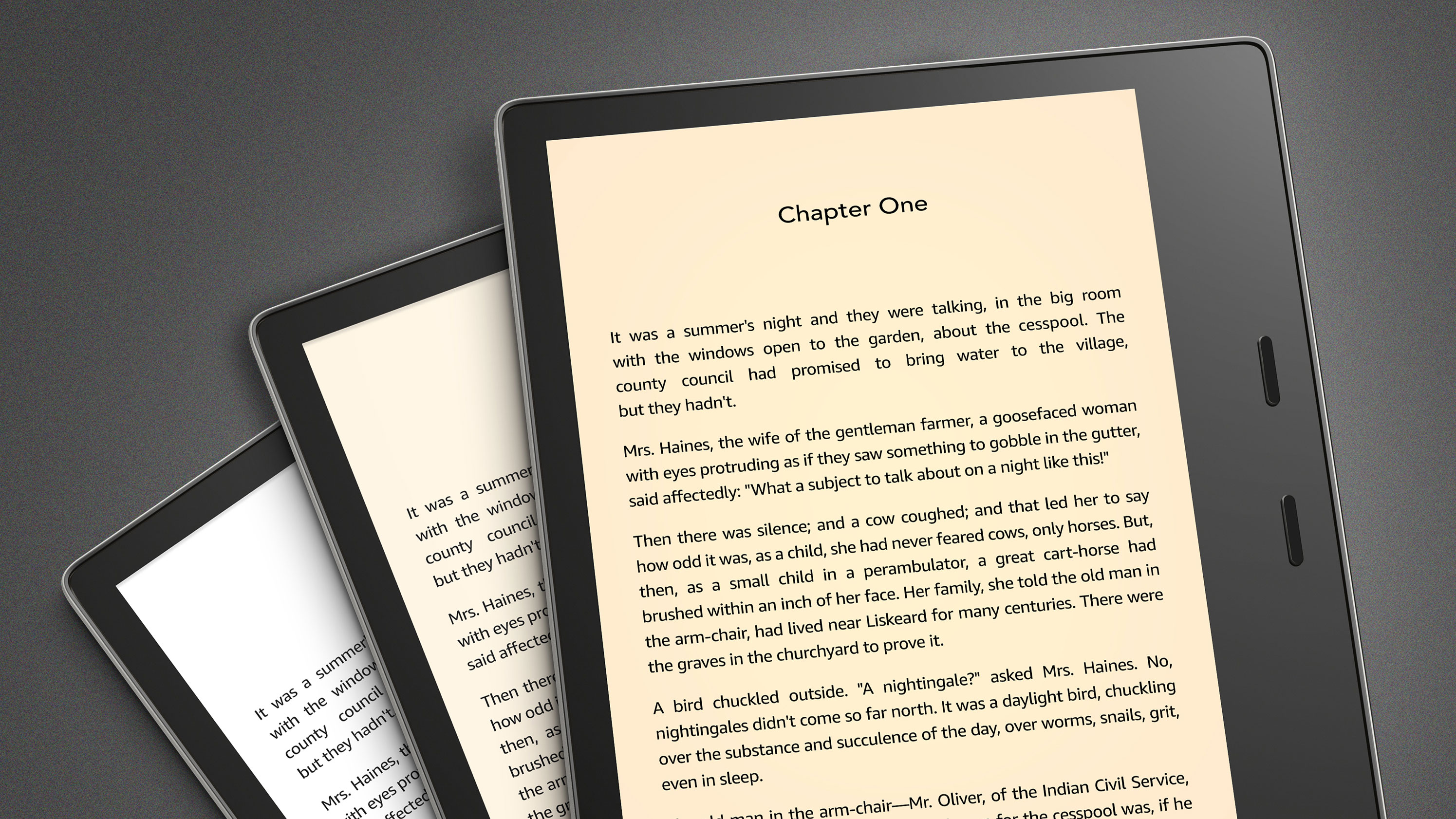 The latest Kindle oasis comes with the largest 7 inches 300ppi display using the latest e-ink technology and a sleek ergonomic design. It is also having page turn buttons making it perfect for one hand reading. Introducing an adjustable warm light for a better reading experience in any lightning. Also now you can adjust the shade of the screen from warm light to a warm amber with the ability to schedule it, when light changes for a personalized reading experience. It is also having an adaptive front light that automatically adjusts the brightness of your screen on lightning conditions. 
It is having best 7 inches, 300 ppi flush-front paperwhite display. Also having waterproof (IPX8) making it comfortable for readers to read in bath or by the pool. Instant access to many of books, newspapers, and audiobooks. Also works with audible, pair with Bluetooth speakers or headphones to switch seamlessly between reading and listening. It is having size of 6.25 x 5.56 x 0.33 inches and weight of 6.6 ounces.
Kindle oasis perfectly fits, these slim, form-fitting covers attached securely. They automatically put your device to sleep and wake upon opening, making it easy to get back your story.
What We Like
Having adjustable backlight.
Having slim, striking design.
It is waterproof.
It is having page buttons.
It is having flush glass micro-etched screen and a frame infused with metal.
What we don't Like
Still no USB Type-C port
Not having 5GHz Wi-Fi support
It is expensive.
Read Full Specs
Read Full Review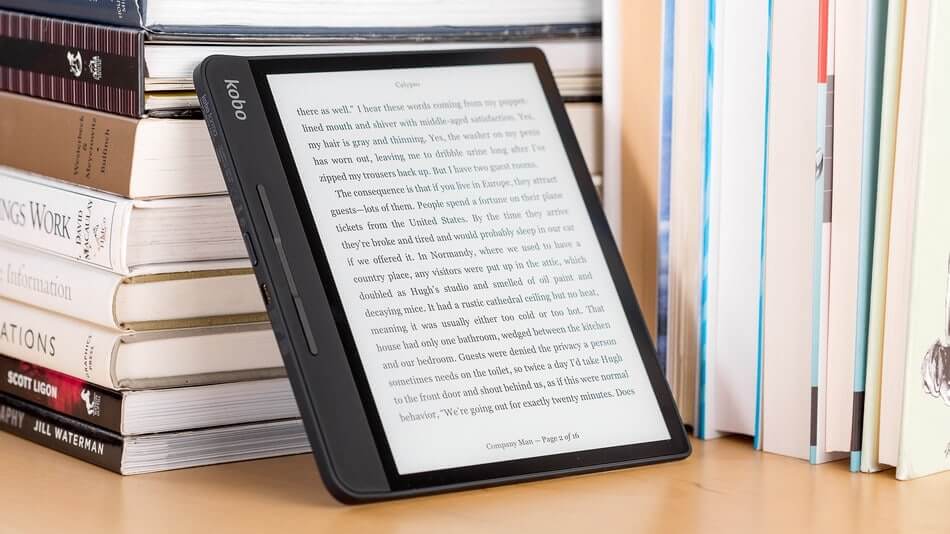 The Kobo forma is largest, most light weight screen that meets the latest innovations in design resulting the most comfortable reading. It is where the future of reading takes shape. It is having 8.0 HD Carta E Ink touchscreen in largest screen. Its buttons are mounted on extra-wide bezel. Also reader can flip between the right-handed and left-handed mode. (It will switch automatically as the device is rotated) and still the touch controls are supported. The buttons are back for easy one handed operations. Its landscape reading mode ComfortLight PRO reduces the blue-light exposure for more comfortable nighttime reading.
It is waterproof with HZO Protection. Waterproof for up to 60 minutes in up to 2 meters of water. Borrow library books with built-in Overdrive store up to 6,000 eBooks with 8GB of memory. It is having size of 3.35 x 6.97 x 6.3 inches and weight of 6.9 ounces. Also reader gets weeks of battery life with single charge. Meets the requirements of IPX8 rating. Available through most public libraries in North America, United Kingdom, Australia, and New Zealand.  
What We Like
It is waterproof (up to 2 meters of water) as well as dustproof.
It is having feature of Auto blue light reduction.
It is largest, most light weight screen that meets the latest innovations in design.
It comes with long battery life with lasts for weeks.
It comes with page turn buttons making it comfortable for single hand use.
It is having large, 8 inches touchscreen.
It is having large storage space.
What we don't Like
It is more expensive than other kobo eReader.
Its ecosystem is not smooth as Kindle's.
Is not pocket friendly.
Its materials does not feel premium.
Read Full Specs
Read Full Review
It contains almost all the features of Kobo's ereading devices. It is specially built for students as it is feature-packed eBook with an affordable price. It looks like one of the version of the Kobo forma, But the Libra H2O has a screen that is far more responsive than its elder brother. It doesn't feel premium as the Kindle oasis feels because it comes with plastic shell and Kindle oasis come with metal body. As it is student friendly eBook reader, it is considerably cheaper than both the Oasis and the Forma. Like Forma, It also provides an excellent reading experience. And like all the other Kobo series eBook readers, it is light and waterproof. 
It comes with broad file format support like EPUG, JPEG, TIFF, HTML, CBR, RTF and PNG files. It is having 7 – inch backlit screen. Offered in black or white, and with four colourful accessories to pair with, it allow you to settle on the model that is best for you. It is having Anti-glare 7 inches Carta E Ink touchscreen, 1680 x 1264 (300 ppi). It is having 8 GB of on-board memory for carrying up to 3,000 eBooks. It is having size of 5.56 x 6.62 x 0.2 inches and weight of 12.7 ounces. It has an ability to choose from 11 different font types and over 40 sizes.
What We Like
It is having fast and very responsive screen.
It is very comfortable to use single handed.
It is not very expensive.
It is light and waterproof.
It comes with front-light with color- changing capabilities.
It comes with broad format support.
It is having physical page turn buttons.
What we don't Like
It is not having audiobook support.
It is stocky
It comes with plastic design.
It does not support Kindle eBooks.
Kobo Clara is the best device for any book lover. It comes with the latest and easy customizable features which helps the readers all new way of eReading. It comes with best 6 inches HD screen which gives print-like reading experiences. It gives the best light to read by with ComfortLight PRO, whether it is day time or nighttime. Also its gives superior experience of reading as it is having crystal clear, high resolution screen. It is having over 5 million titles, from the latest bestsellers to best classics. Also you can start reading from where you stop on any of your smart phone just by installing free Kobo App. It always remembers where you lasted.
Kobo Clara HD comes with the superior 6 inches high definition carta E Ink touch screen gives reader a print quality reading experience, also provides the best light no matter it is day or night. It gradually reduce blue light exposure for more comfortable reading. It supports many image formats like BMP, GIF, JPEG, PNG, TIFF and documents format like CBR, CBZ, EPUB DRM, HTML, MOBI, PDF, RPF and TXT. It comes with 6000 memory capacity (eBooks). It is having size of 4.33 x 0.33 x 6.28 inches and weight of 5.9 ounces.
What We Like
It is small and light.
It comes with color – changing front light.
It gives comfortable reading even in nighttime as it reduce blue light exposure for nighttime reading.
It comes with gorgeous screen and light design for easy grip.
It also supports many types of file formats.
What we don't Like
It is not waterproof.
It is sometimes uncomfortable to hold.
Nook Glowlight Plus is a good eBook reader. Its screen look good and the frontlight color is adjustable. It is all over good device if you are only looking at the hardware. It is comfortable in use as it is having page buttons. The price is cheap compared to its competitor. It comes with big screen 7.8 inch screen, which provides more real and simple for reading eBooks, newspapers, PDF files and many more.
NOOK is disappointing when it comes to software. It is okay if reader want to read NOOK books from B&N, but personally not recommended for non-NOOK content. It is waterproof with IPx7 certification, allowing the device to be submerged up to 30 minutes about 3 ft. of water. It is having a 3.5vmm headphone jack. But it is not foe audiobooks. NOOK is having two page turn buttons on the both side left and right on screen. 
The NOOK features E Ink Carta HD 7.8 inch high resolution display with a resolution of 1404 x 1872 with 300 PPI. It stores thousands of books (8 GB memory: 6.4 GB for NOOK Store content and side loaded content). It is having size of 8.3 x 5.9 x 0.34 inch and weight of 279 grams.
What We Like
It is having large screen with 300 PPI.
It is having frontlight adjustable color temperature.
It is waterproof (IPX7 rated).
Most affordable 7.8 inch eBook reader.
It is having page buttons making reading easy for eReader.
It battery lasts for weeks once charged.
What we don't Like
It is somewhere more heavier compared to other 7.8 inch eBook readers.
There is no change in software. It has same software as the Glowlight 3.
Read Full Specs
Read Full Review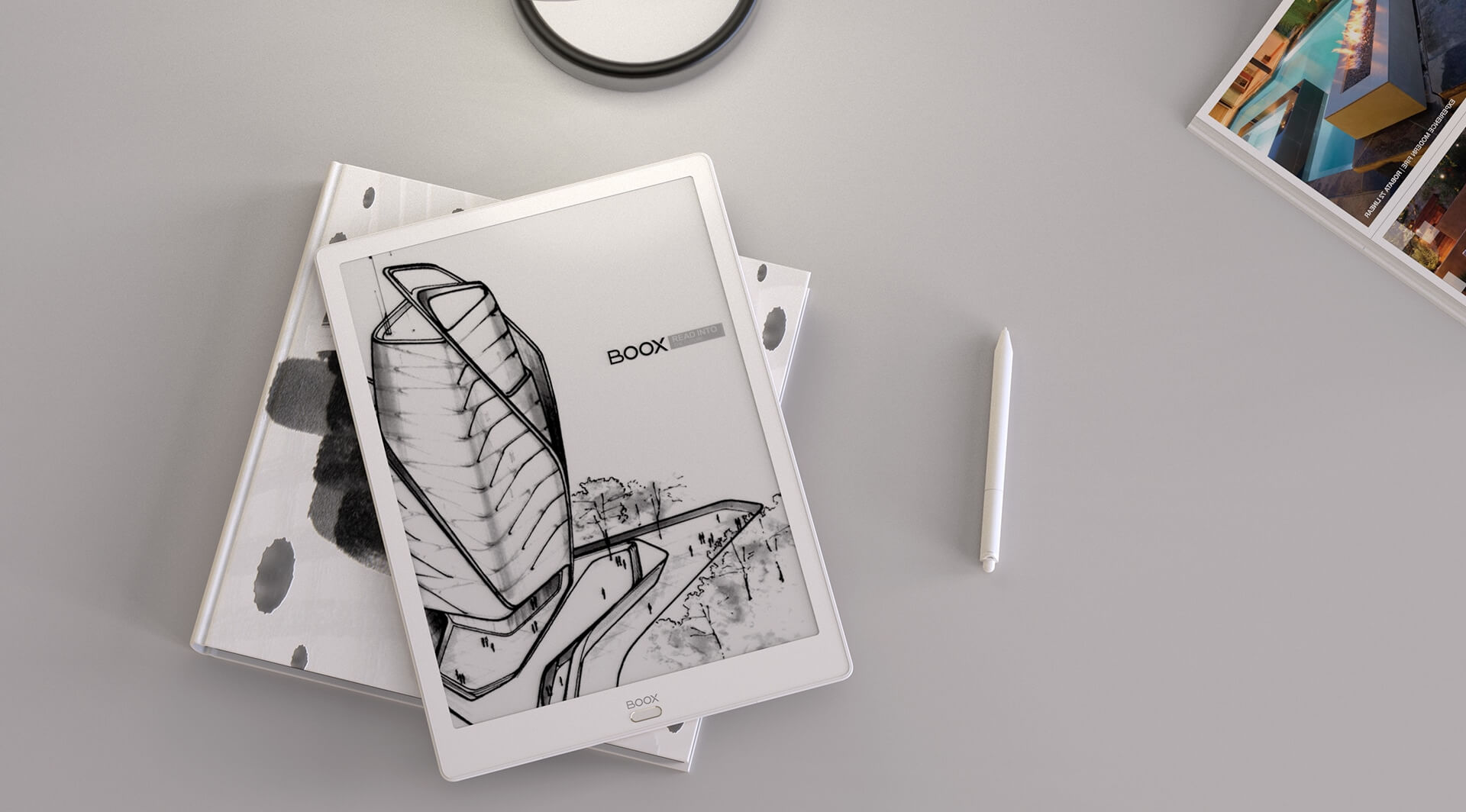 ONXY BOOX Max 3 is the most powerful, versatile E Ink screen has 16 shades of gray. It is much better than E ink devices I have seen, as it is very sharp as well as user – tunable. Also you can change the refresh rate, the contrast and the no. of page flips before a full refresh. It is the device for reading the electronic books with HDMI monitor function. MAX 3 has E Ink Mobius Carta of 13.3 inch screen and is based on android 9. It can be the perfect eReader choice for them who have read academic, technical literature, for musicians and programmers. Its screen size is large making it very comfortable for reader. It comes with powerful processor in combination with 4 GB RAM and double sensor control are the optional tools for reading PDF files. BOOX software allows to open files of various texts and formats. Also you can change the font style, size, dispositions of pages, insert bookmarks, add your own fonts and zoom documents at will.
It is having 13.3 inch E ink flexible screen with flat cover – lens having high resolution display of 2200×1650 Carta (207dpi). It is having octa – core 2.0 GHz processor and 4 GB LPDDR3 memory having 64 GB EMMC storage. It supports documents format like PDF, EPUB, TXT, DJVC, HTML, RTF, FB2, DOC, MOBI, CHM and image formats like PNG, JPG, TIFF and BMP. It is having size of 310 x 228 x 6.8 mm and weight of 490 gram.
What We Like
It is having huge screen of 13.3inch.
It comes with thin and light design making it comfortable for use.
It is having stylus.
It runs android apps.
Software updated to Android 9.0.
It comes with upgraded hardware: octa–core processor, dual band Wi-Fi.
It is having fingerprint sensor.
What we don't Like
It is expensive.
It is buggy.
Not all the third party apps work.
There is no frontlight.
There is lag when using monitor mode.
Read Full Specs
Read Full Review
It has retained almost everything about its iconic E-Book reader that works, while bringing better functions at an affordable price. There are four adjustable LEDs on the front. This gives you better reading experience compared to earlier versions. It also prevents accidental swipes. Also its 4 GB of storage helps you to store thousands of e – books. It also supports public and private Wi–Fi networks and hotspots that work over typical 802.11b/g/n standards. It is slim and light, so you can comfortably carry an entire library with you. It won't even feel as weighty as a single paperback.
The Kindle does not have ambient light sensors to adjust screen brightness automatically like the oasis. There are 24 levels of lightning too, just like the other kindles. It is having 6 inch of E Ink Carta and is of 167 ppi. It comes with 4 GB of internal storage. It lasts for weeks once charged and is made up of plastic body having soft touch which makes it handy and easy to use. It is having size of 160 x 113 x 8.7 mm and weight of 174 grams. 
What We Like
If price is very less. Students can afford it easily.
It is having integrated lightning.
It is lightweight making is handy and comfortable.
It has also improved design with backlight.
It is having similar performance compared to other Kindles.
What we don't Like
It is having low resolution.
It is not waterproof.
Its screen quality is not good enough.
Read Full Specs
Read Full Review
BOOX Note 2 is a versatile eReader that work on Android 9.0 OS.  It is the second generation E Note. It comes with a 10.3 inch E Ink Carta HD display with a resolution of 1872 x 1404 with 227 DPI. It has front lit display and amber LEDs to counteract the bright white ones. The screen comes with bezel and there is glass pane. The big advantage of an e – reader using a modern version of Android.
There comes a new feature that is only found on Note 2, a little trackball icon on the bottom right.  When it get touched, it will provide radial options, such as volume levels, multitask windows, power and quick settings. When it comes to the Note taking experience, MAX 3, Note Pro and Note 2 all do good work, but the only difference is when it comes to PDF files.
It comes 10.3 inch of screen having 227 PPI which gives very comfortable reading for eBooks, magazines, etc. it can read PDF, EPUB, TXT, DJVU, HTML, RTF, FB2, DOC, MOBI and CHM documents. You can also adjust the 222 fonts and the size. It is having size of 249.5 x 177.8 x 7.1 mm and weight of 378 grams.
What We Like
It has a large and high quality color accurate display for the convenience of the user.
It is very light weight compared to other products providing comparable features.
It has AI text recognition which enables the user to read hand written text.
What we don't Like
The back panel of the device catches fingerprints and moistures smudges very quickly.
The AI text reflow recognition sometimes adds or deletes spaces unintentionally.
Read Full Specs
Read Full Review
The Kobo Aura H2O is a next generation EBook reader which provides the users with a lots of new and exciting features. From software to the hardware it manages to check all the boxes that the industry standards offer. The Aura H2O offers a display sensitive enough that it responds to the light touches and smart enough to distinguish the touches being intentional or accidental.
One of the main eye-catchers of the Kobo Aura H2O is its smart and advanced Operating System. The Operating System on the device helps the user with a lot of things such as time and atmosphere adaptive brightness control, a wide variety of new and advanced features and the perfect environment for the readers to enjoy the good quality reading experience with every book they read on the device. The new version of the Operating System on the Kobo Aura H2O also provides the users with many new and exciting font styles which improves the overall reading experience of the users. 
The Screen of the device is also an improved experience. The Kobo Aura H2O not only provides a highly responsive and sensitive display, but the brightness control and color coding of the screen depending on the surroundings is also pretty impressive. The screen adjusts the brightness and color coding to an orange hue from the blue-white hue to save the users from the eye strains. The device provides a bedtime mode which adjusts the screen to be comfortably readable in bed in the dark. Although the capability to perform in the dark, the device is perfectly readable even in direct sunlight.
The device provides an 8 GB storage which can be used to store a massive number of EBooks. The EBook library has also been updated to provide almost every popular EBook the users may demand. The device has a capable 1.0 GHz processor along with 512 MB of RAM to provide a seamless and fluent experience. The battery on the device is also very capable which according to the standards of the company should hold for approximately a month for half an hour of usage each day. The device also maintains light weight of just 7.3 ounces and the dimensions of 5.08 x 6.77 x 0.33 inches. The device has a 6.8 inch screen for comfortable reading. Maintaining the durability as well, the device offers a Water Resistance rating of IPX X8.
What We Like
The device is both lightweight as well as durable providing a Water Resistance Rating of IPX X8.
It adjusts the brightness and the color hue for the comfort zone of the user to avoid eye strains.
The OS provides a clean, sharp and easy to read experience with new and exciting font styles.
What we don't Like
The display of the device responds to the unintended touches because of the high sensitivity.
The EBook library provided by the manufacturer provides lesser books compared to other manufacturers at a slightly high price.
The supportive backlighting on the device is weak as compared to other products in the range.
Read Full Specs
Read Full Review
For more technical news and gadget updates, stay tuned with us!
Keep yourself updated with the latest gadgets, tech news! Join our Facebook, Follow our Twitter for regular updates.
ALSO READ :