KEY POINTS
Loftie Clock uses the two-phase alarm to wake you up from slumber by the melody sounds and help you to get out of bed with pleasant mood.
Loftie display brightness will reduce automatically with time and built in night light gives your warm light for prefect nap.
Loftie uses the scientific & natural sounds for mediation, sound baths and can also play your favorite contents like music or podcast.
---
Loftie, a thoughtfully connected alarm clock designed for the people who wants to keep the phone out of the bed room without going back in time. Loftie alarm is less alarming which is a better way to wake up, rather than snoozing Loftie uses the two-step alarm to cut through morning grogginess with the first sound that loathes you out of slumber with the second which makes you out of bed.
Loftie provides better way to wind down your mind without any distractions while sleeping with sleepy time playlist sound baths and built in breath work exercises from professional instructors.
Loftie also provide great feature allowing to add your own content such as music, podcast. The display light in the Loftie will be dimmed automatically as the time passes during day and warm glow as bed signal signifying time to sleep.
With one press during night on Loftie gest you a nightlight when you needed and blackout mode when you don't, Loftie also plays natural sounds which helps to you to get into sleep quickly if you rely on sounds to sleep all from brown noises to nature sounds with automatically the sounds off when your alarm is about to start.
Problem Solving By This Product
Those who spend hours in phone before going to bed ended up with thinking of their message, Loftie will help you to get better sleep by keeping your phone away, no more alarm snoozing the alarm and get irritated.
Loftie two phase alarm will woke you up pleasantly, not unlike the smartphones with irritating sounds, Loftie display will automatically goes dimmer as per the time, no more screen lights beside beds to disturb you.
The warm built in nightlight will glow at night times reminds you the sleeping time for bed. You can also listen sounds for meditations, sound baths and nature sound while you are sleeping if you are sound sleeper and they get stopped before alarm to not miss them.
You can also play your favorite music, podcasts or anything in the Loftie Clock by connecting to your smartphone using the app which is available for both iOS and Android.
The internal light sensor and with the app Loftie will create your personal sleep data, so that you can improve your sleep for the next day to work more effectively.
Detailed Features
Loftie creates a better tech life balance for the people who spent their most part of the time using smartphones more in daily life. Loftie makes your feel relaxed and refreshed every day.
Loftie is an alarm clock especially designed for non-alarmist for your well-being with all the features like white noise, media player and serves as a speaker with the nightlight, alarms and better battery backup.
Loftie screen light will get dimmed as the time passes from morning to evening automatically so that no brighter screen near you bed side for better sleep, the Loftie uses a tow phase alarms, which is the most intuitive and reliable alarm clock in the world.
Loftie is designed in a way to put to you into sleep from the texture of the buttons to the lights of Loftie display with the four buttons on the top a main button to select the menu items and to set alarms including off / on & play / pause functionality.
A pair button in the Loftie serves as to scroll down / up or to increase / decrease the volume and to adjust the brightness from low to high as well, the same button is to be used to adjust the time and alarm.
The Snooze button on the Loftie is used to snooze the alarm and to turn the bed light on/off, go to previous menu and closes out the menu or can be used for activating blackout mode.
The two-phase alarm system in the Loftie is designed to wake up the sleeping heads in two distinct stages. With the first sound that pulls you out of slumber while the other will make you active to get into work by stepping out of bed.
The warm glow on the Loftie is a built-in nightlight signal will remind to start think about the bed time and also serves as bed light for perfect mood to fall asleep. Loftie also equipped with the sounds of meditations, sound baths and breathwork from the professional instructors also you can play your favorite unique content directly from your phone to fall in sleep with the night stories.
Loftie clock also cones with the scientifically calibrated white, brown and pink noises along with the nature sounds to create a perfect sleepy environment around you and the sounds will be gone before alarm so you won' be getting any mixed sounds anymore.
With Loftie you can set your own sleep pattern with the internal light sensor to set the alarm sound time and with the Loftie app you can create your personalized sleep data that helps to get efficient for the next day with good sleep.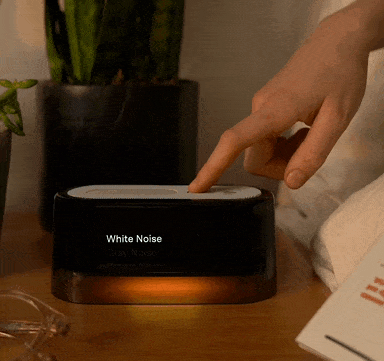 Loftie is a cloud connected device so that you can combine with other 600 services on IFTTT, no app is needed for the Loftie if you want there is for iOS and Android which allows to set your alarm remotely even multiple scheduled alarms.
The Loftie clock is priced at 99$ USD and a pack of two for 189$ USD .
Plan For Launch
The team is working on the prototypes of the Loftie Clock and bringing the demo in first Quarter of 2020, with some changes in the design and after the manufacturing of the Loftie, will be shipped to your homes in the later quarters of the year 2020.
Company Details
This Loftie is developed by a team, who are helping customers to build a better night's sleep. Team of younger and bright minded industrial design experts who always believes that perfect and good sleep for humans will increase the productivity next day.
Matt Hassett is the founder and CEO for the company and George Hastings as the design director, Elise DeCamp she is the marketing director and many others as software engineers and industrial designers and medical advisors etc.
---
ALSO READ :