KEY POINTS
Nimble is a portable charger with huge powerbank.
Nimble can be charged very fast, 80% charge in just 30 minutes.
Nimble can provide 10 days battery backup.
---
N
imble is a portable charger, much like a power bank but is a total standout from the rest. The charger not only houses massive battery storage but is eco-friendly too. To add to it, the charger is filled with exquisite features such as fast charging and multi-port system. Nimble is very portable and can be easily packed during expeditions and adventures. The charger provides you with a backup of at least 10 days of battery, ensuring that you don't lose the juice on your devices.
Nimble is a power bank with a massive battery backup. Now, one can forget all those moments of helplessness that came with the dying battery of the phone. Nimble will cover you and cover you well. The design of Nimble is compact, elegant and minimalistic. Its compactness brings portability; elegance and minimalism bring excellent design on the table.
These are supported by its build being robust and most surprisingly, eco-friendly. It also cuts the need for buying a new cable every time it gets spoiled. The all-new cable management that has been implemented in the product allows the cable to stay for longer times than average.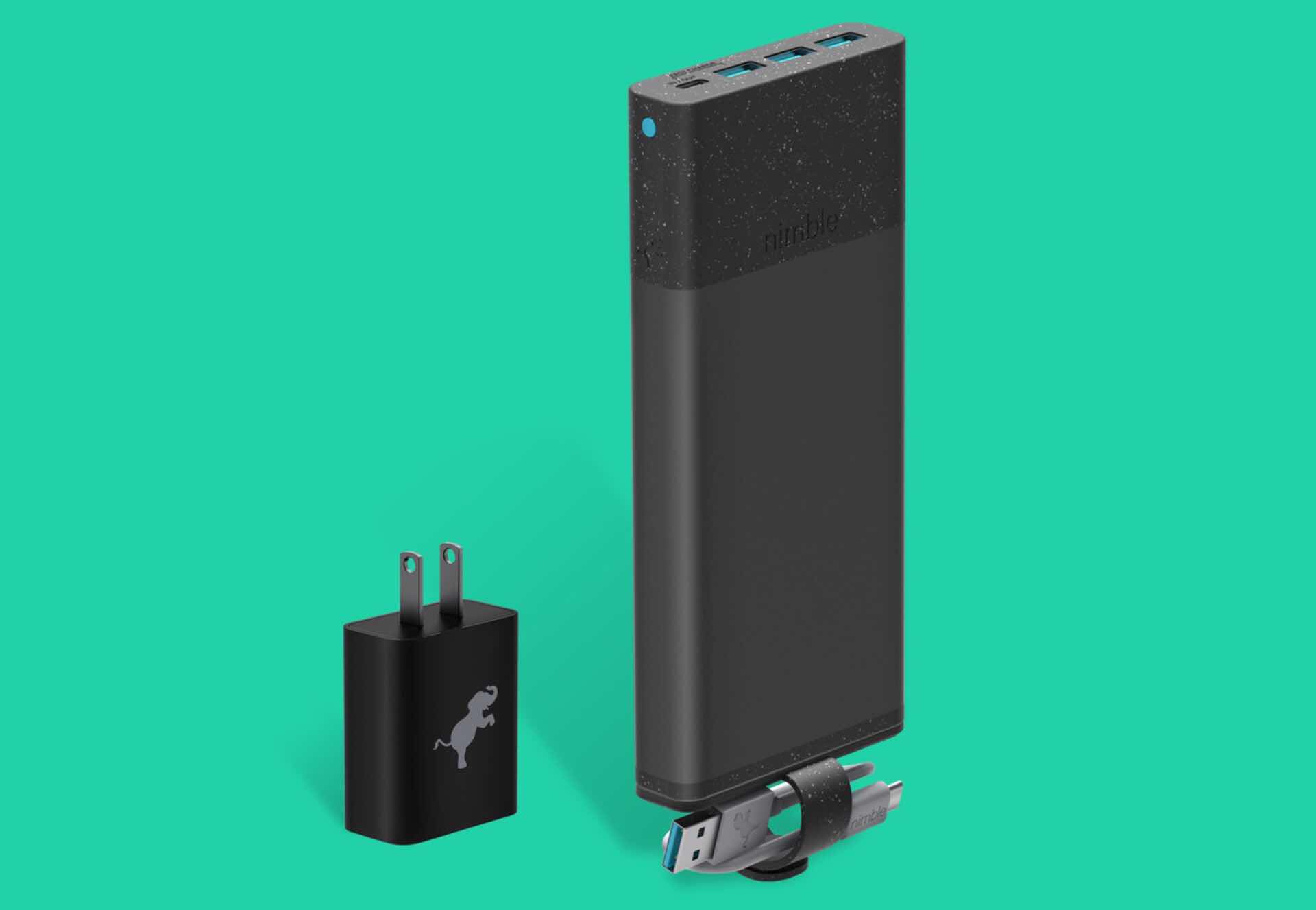 Why Nimble
In the modern times, the world is in our hand. With one device, we can be anywhere we want to; we can catch up with anyone we want to. In short, we can do almost everything whilst just sitting in our comfort zones. Communication has become far easier with everyone far apart from us. Access to the world is again just a click away. The technological advancements have brought everyone closer.
It has made the world, just a small packet. But with every step that we take towards the progress, we need fuel. A fuel to keep everything running and no doubt that during this era, the only fuel to our devices is batteries and power they deliver. Batteries are indeed one of the most important aspects of devices.
Our gadgets solely depend on them. But what happens when they run out of it. Surely, there are backups for them but how many of them are eco-friendly? Nimble is here to stand against all odds.
Nimble Features
Everything about Nimble is eco-friendly. The devices robust outside structure is made from recycled Aluminum. The internal structure is entirely made up of bioplastics. The bioplastics are derived from corn and sugarcane. The structure has a one-of-a-kind punch to it.
It is often the case with devices that they either excel in their design or in their functioning. With Nimble, you will get a complete package. The charger has a massive capacity of 26,800 mAh. A battery that is tipped to provide juice for your phone for as much as 10 days.
It houses 4 charging ports; 3 of them being USB and the 4th port being USB type-C. The type-C port can be used to recharge the power bank and also to retract power from it. Nimble is a QC 3.0 charger i.e. it supports fast charging. It has a power output of 18 watts which can charge any device that supports fast charging relatively fast.
It boasts its capability of charging an iPhone to 50% and a Samsung to 80% in just 30-35 mins. The device also features pass-through charging which allows the user to charge their device whilst the power bank is itself charging.
Nimble Design
On the side of it, it has 5 green LEDs which indicate the battery level of the device. It has an extra LED indicator which has a different purpose. The LED indicator is orange in colour and turns on only when fast charging is being done. On top of all six LEDs, there sits a blue power button. Nimble is very sleek in its design.
The texture of the body is smooth and tough. The body has two sections; one that covers the lower body and the other housing ports and LEDs and both are differentiated by a change of design.
Nimble has very smart cable management. The bottom of the power bank is magnetic and has a plate which can be detached from it. The plate has a strap which holds the cable, whichever it may be.
Nimble is quite an exquisite package. The company ships its eco-friendly product to the consumers in eco-friendly packaging. The packing is 100% plastic-free. Inside the box is the PowerBank itself, a power brick of 30 W. A disposable pouch, a USB to USB Type-C cable with a couple of instructions are also included in the pack.
The 30 W power brick can be used to charge the power bank from zero to 100% in a quick time of just 5-6 hours. The disposable pouch is for the user to send any unused electrical device back to the company so that it can be reused in the production of other products that Nimble offers.
Price and Availability
The product is already up for ordering on e-commerce websites such as Amazon.com. It can also be ordered from the official Nimble site. The shipping will be done according to the customers' residential area. The device comes in two variants: 8-day charge which costs 60$ and 10-day charge which costs 130$.
About Company
Nimble is a firm which focuses on providing top-quality products to its consumers. Alongside this, the company's main motto is to sustain the environment around and to produce much less waste as possible. It also emphasises that the waste technological devices are creating is increasing day by day as their lives are getting shorter.
Innovative projects like one-for-one are launched which is that every customer is provided with a disposable bag. One can send back wasteful devices in order to ensure that they are used in such a way that it closes the loop of electronic waste. Motives like transparency, honest pricing drive the company.
The firm has also committed themselves to pay at least 1% of their annual sales to non-profit organizations that ought to look after the environment. Nimble assures that it always takes steps that help nature in one way or the other.
So, help Nimble to their noble case and try the Nimble 10-Day fast portable charger and experience a new and eco-friendly approach to products.