KEY POINTS
Lumen measures your metabolism through a single breath less than a minute, with its compact and refined designed it can be carried to anywhere.
Lumen will tell you what to eat and when to maintain your weight or to lose, to make you fit and improve your performance.
Lumen will give you real time tracking on sleep, activity, nutrition and workouts that affects your metabolism of body daily.
---
Ever since world maintaining nutrition is very important thing to maintain health or physique, whether you are doing gym or doing diet. People end up don't know what to take and when, what are burning either the fat or carbohydrates. Seeing the results long after make everyone nervous. Lack of nutrition keeps your physical and mental strength down the line.
Lumen will help you to measure your metabolism through breath. Lumen is both device and an app to tell you the daily routine personalized meal plan to help you lose weights and optimizes the efficiency of your workouts.
The metabolism of the human body differs day by day with the food we eat and depending on amount of sleep and workouts if we do. Lumen will help you in keep tracking in metabolism, tells you whether you are burning fat or carbohydrates. Suggest you what to eat to maintain your body healthy.
Problem solving by this product
Lumen will help you to tack your metabolism with a single breath less than in a minute rather than long hour test in lab with much cost.
Lumen will make you know what to eat and when to eat with personalized food meal plan daily to make you lose your weight and improves your fitness in shorter span with daily results.
Lumen will show you the real time metabolism in your body, it very lights in weight can be carried anywhere.
The tracking system in the Lumen will track your sleep and activity along with the nutrition, workout with showing daily progress for your goal. And how the previous days choices on workouts, food, and activity's changes your metabolism today.
The major problem that is solved by the Lumen, that Lumen tell you what food impact your metabolism and preventing from your goals and fitness.
Detailed specification
Lumen will track and monitor your metabolism in a single breath and know what to eat and when to reach your desired weight and fitness goals.
Lumen is designed for the people who don't about the nutrition diet and wanted to know about the food that provide them nutrition's and when and lose weight to make them fit and improves their performance along with their weight.
The breath reveals that what your body burns, either it is burning fats or carbohydrates anywhere and anytime with simple steps involving from breathing into Lumen and after analyzing the data see your metabolism in real-time and get your daily meal plan.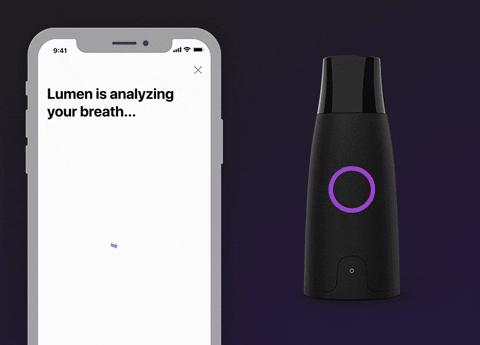 Lumen device is sleek and compact in design and simple to charge with the charging dock just placing on it. The apps real time tracking will monitor your sleep and activities along with the nutrition and workouts, and your progress on your goals to see immediate results. The AI nutrition coaching will suggest you daily meal planning with the food preferences and pre & post recommendations.
Carrying Lumen along with you is like having a nutritionist in your pocket. Customizing your nutrition to get daily personalized meal plan based on that day metabolism of your body to know exactly what to eat and when.
Lumen will help you to discover how the food really affects you by impacting the metabolism in you, from reaching your personal goals and see your metabolism is affected or not with yesterday's sleep and activity and food choices that you made, help you don't track your food.
Lumen also tell you whether you have enough energy to do workout or if you need to recharge yourself before you do to optimize your workouts and makes you fit in shorter span of time.
Lumen gives your body a voice to interact to you and help you to answer about your body that no one can else about health and balance diet with metabolism rate when getting older, with exercise and weight. This will give you a complete idea of your body.
How It Works
Lumen device uses a CO2 sensor and a flow meter to calculate the concentration of CO2 in your breath, which indicates what the body burn either carbo hydrates or fat. The CO2 concentration is measured with unique breath maneuver which hold the breath in it for 10 seconds and exhales fully.
Price
The Lumen is priced at $249 (Rs 18, 426) for the per order special and the dual deal with two Lumen for $429 (Rs 31, 746).
Plan for launch
The design for the manufacturing is take place in November to December in 2018, with the first mold iteration in January along with the mechanical parts testing in the rest quarters of the year.
The second mold iteration along with the Chinese New Year manufacturing is done in the year 2019 April. With the third mold iteration in May. The product testing and the first production run is done in June.
Mass production begins in Mid of the July while the shipping in three batches in September, October, November and Presale ends in December 2019.
Company details
This Lumen device is developed by the team, which began with twin sisters Merav and Michal has PhD's in physiology. Lumen's mission is to create a world where every person has access to personalized nutrition and empowered to improve their health through the latest technology in the field. Lumen maintain transparency by developing a new method of measuring and tracking metabolism in bodies in real time. They believe that you should know each and every change occurring in your body step by step.
They are passionate about developing a new to care about the personal nutrition, but they know that only way to measure metabolism was costly and time consuming. They formed a team with and made a successful prototype that measures metabolism in single breath in less than a minute.
---
ALSO READ :