KEY POINTS
HyperCube comes with three wireless charging pads.
HyperCube comes with

Apple, Samsung & Qi Enabled.

HyperCube comes with sleep sounds, smart LED light panel.
---
Are you in the market looking for a sleep aid which has all the basic functionalities like alarms, white noise generation etc and can also double up as the wireless charger for your mobile device? Well, Ampere (GGTR) is in the market with a product just to cater to your needs. The solution by ampere is effective, reliable and very elegant making it easily a part of your bedroom. It is a multi-functional product with more than 10 smart features all packed inside this beast which can also charge 3 Qi-enabled devices.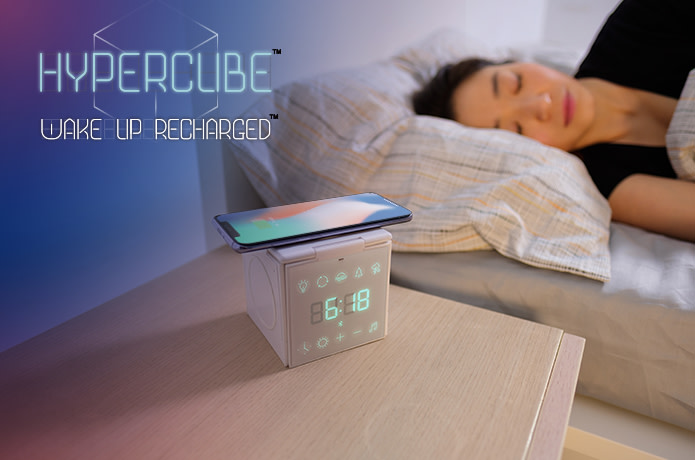 Problem solved by this product
The home consumer market had been longing for a bedside wireless charging solution which also comes packed with other functionalities making it a comfortable companion for the common bedroom. With the features like sleep aid, wake up light, alarm clock along with the ability to charge your devices like the mobile phone, smartwatch etc, it surely looks like a promising product for your home.
The HyperCube, if put in nutshell, can help you wake up recharged, as in both sleep wise and your device wise. The device is of modular device and can be stacked into a cube making it also a travel companion.
Detailed Description
To put thing in a glance, the HyperCube has three major functionalities: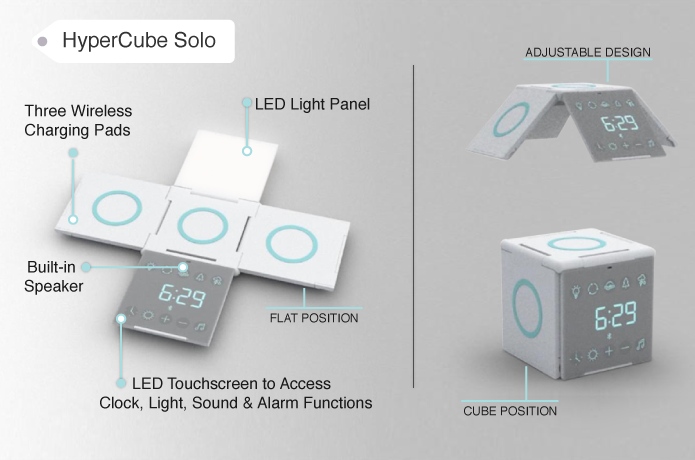 It consists of three wireless charging pads which can be used to wirelessly charge any Qi enabled device like the iPhone, iPods, Smartwatches etc. The design being modular it can be shaped into a flat, cube or stacked for on the go charging. The charger is a fast charger which juices up the devices by 50% faster speeds.
Sleep Aid: The HyperCube is a perfect sleeping companion. It uses a combination of gradually increasing light and sound to wake you up in a scientific and natural way. This avoids the eerie ring of the alarm which makes you wake up with a heavy head. The LED light panel can also be used as a bedside lamp for reading and can also function as the mood lighting as you can manually control the colour and brightness.
Ambient Noise generation: It double up as speaker which is built in and can help generate sleep sound and white ambient noise for a peaceful mind and calm at the end of a tiring day.
The HyperCube can be operated using the touch controls on the device. You can set the alarm, mood light, sleep sounds etc using the touch controls. Apart from this, it comes bundled with a mobile application which can also be used for the achieving the same functionality as from the touch controls.
The HyperCube also comes in a premium version, dubbed as HyperCube Ultimate which comes with very interesting added features and functions built in.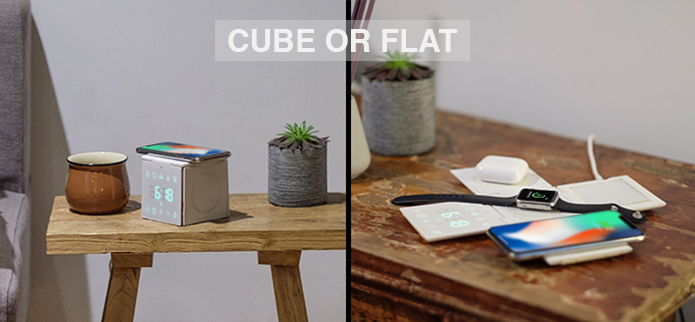 The Ultimate version consists of 4 powerful Bluetooth enabled speaker drivers located such as to create a 360-degree acoustic experience. Hence, the device can play your favourite playlist and also, work as an alarm.
The power bank which sits inside the HyperCube is a 20,000 mAh power beast which can charge all your devices with ease. The Base is designed so as to hold the devices at a 45-degree angle, hence, even while charging you can use your mobile phone for watching videos and checking your important notifications.
It also comes bundled with LED nightlight which can double up as light panel for various purposes and fit on wall, doors or any flat surface. The night light is wirelessly chargeable and can be easily charged using the HyperCube when it runs out of juice.
The HyperCube and the ultimate version not only make your bedtime routine an ease but also declutter your bed table due the multifarious features built into it. It not only beats the market competition by a mile in functions but also is available at a competitive price making it a clear market leader.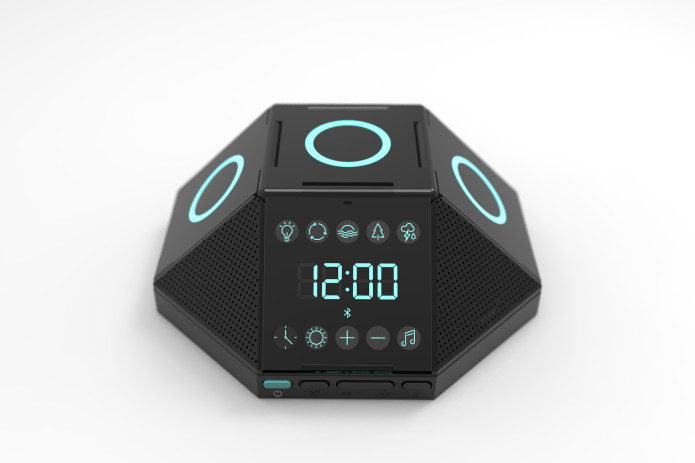 Weight: 220 gm (+ 375 gm for the PowerBank).
I/O: 12 V input and 10W + 5W+ 5W output, USB type C
Connectivity: Bluetooth 4.2
Buttons: Integrated LED touchscreen buttons
Dimensions: 88 x 88 x 7 mm per panel, 264 x 264 x 7 mm when laid flat
Lights: App enabled 16 million colours with 3 pre-set light alarm simulations
Sounds: 6 pre-set sleep and alarm sounds
It comes in custom colours, wherein you can pick up the finest detail of colouring while ordering the product as per your liking.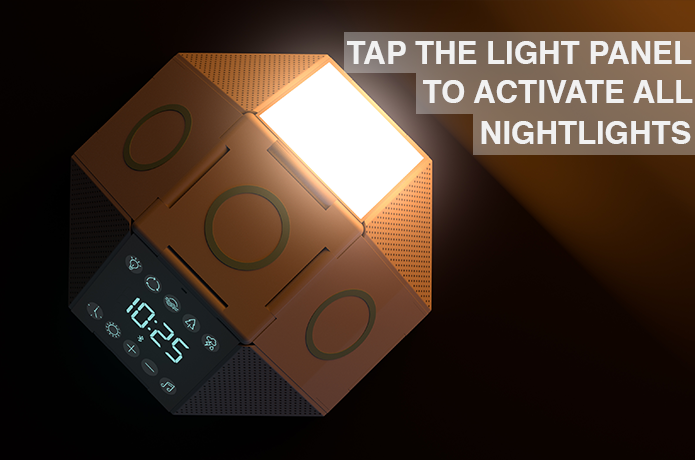 Plan for Launch
The idea germinated in the year of 2017 with first prototypes and testing of the product began in early 2018. In march, 2018 the product was officially named HyperCube and was made available for beta testing.
The product was listed in the crowdfunding website Indiegogo in May 2018 and has been available for sale from October 2018. A total sum of Rs. 9,811,064 has been raised by 909 backers.
The HyperCube is priced at Rs. 8440 while the premium "Ultimate" version is priced at Rs. 15,957. You can find more about the product here: HyperCube
Company Details
Based in Brooklyn, Unites States, the company is headed by co-founder Reid Convington and Chase Larson. Their motto is "we make products that solve everyday problems in fun ways".
The company believes in communicating with the customers even after purchase to constantly improve and develop upon the needs of their clientele.
Editor's Pick

The HyperCube is a perfect mate for your bedside, a compact device packing in alarm, speakers enabled for sleep aid and reliable wireless charging. It stands way ahead of the market competition in terms of functionality and will sure prove to be a boon for those looking to declutter their bedside. The price point of the device seems reasonable and anyone looking for a wireless charger can sure go for this, given the added functionalities.
---
ALSO READ