KEY POINTS
Fingerbot is new tiny gadget which can help you to control any device.
Fingerbot can be connected with Mobile App and Control any other device.
Fingerbot can convert any traditional gadget into smart.
---
W
e are presenting a tiny gadget that has the potential to control every aspect of your house. This is the Fingerbot. A device that allows you to control the working of your household via remote control. The process to turn your home into a smart home is a very costly endeavor. Fingerbot makes use technologies like the Internet of Things (IoT) to transform your home into a smart one at a minimal cost.
The device sounds very futuristic and advanced but is reasonably easy to operate. The product has received superb backing on Kickstart and backers are very hopeful for its market potential. Keep reading to know more about this revolutionary product.
Have you ever wondered what it would be like to live in a fully automatic home? What if you could control all the devices in your house remotely? You must be thinking that this type of technology is only for science fiction movies, and does not exist in real life. Let me assure you that this type of technology not only exists, but you might be able to install it in your home soon enough.
Everyone wishes that they could turn off their switches, unlock doors and much more, using their phones. If you are one of them, then you're in luck, we might have something that could be perfect for you.
Fingerbot Overview

If you want a fully automated house, you'll have to replace all of the existing devices with IoT devices. This can be very costly and cumbersome. Fingerbot has been developed by the company Adaprox, to provide a smart home experience at a fraction of the cost. As the name suggests, It is one of the smallest robots ever made that is unlike the robots in the current market.
Fingerbot can pair with your mobile and grant you the ability to control your household appliances wirelessly. With the help of Siri or Google Assistant on your phone, you can even give voice commands to the Fingerbot.
You need to download Adaprox controller app to use the Fingerbot. It is very easy to install, and you can use 3M tape, Velcro or magnets to secure it in place. It has a lithium-ion battery of 500 mAh, which can last for almost 6 months and takes 1 hour to charge. Loaded with several other features and add-on, this device has numerous applications which we will be discussing shortly.
Problem-solving by the product
Has it ever happened to you that you have left home, only to realize that you left the lights on? Or you were unable to unlock the door because you were busy with something? Everyone has come across such situations at some point in their lives, and only if there could be a device that could help us. Well, there is now.
Fingerbot is your little robot friend that can transform your house into a smart one. It can attach to almost any switch and perform many functions. From switch toggle to opening doors, to preparing coffee and much more, Fingerbot can help you to lead a truly automatic life. A life where you don't need to turn on or off a device manually.
This gadget delivers the control of your entire house to your fingertips. By giving voice or touch commands, you can control almost every machine in your house. Fingerbot can be particularly beneficial for the elderly, as they might find it difficult to perform everyday tasks. Differently-able people can also have some independence in their life by using this device.
The product is designed for those who want to have a smart home experience, without going out of their budget. If you are one of these people, then you should consider investing in Fingerbot.
Detailed specifications
Here are the detailed specifications for you.
Product Model – ABB101
Product Dimensions – 3.2 cm x 3.2 cm x 3.2 cm (1.12 inch x 1.12 inch x 1.12 inch)
Product weight – 32 g (1.1 oz)
Communication protocol – BLE 4.2
Functionalities – Remote control, timer, alarm clock, extended programming
System support – iOS 11 or later, Android 9.0 or later
Charging port – USB type C
Stall torque – 1.8 kgf-cm
Working temperature – -10 degree C to 45 degree C
Charging duration – 1 hour
Battery type – Rechargeable Lithium-ion
Battery capacity – 500 mAh
Charging current – 500 mA
The company has also released an add on called Adaprox bridge. In case you have multiple Fingerbot, this bridge allows you to control all of them remotely, even when you are not at home.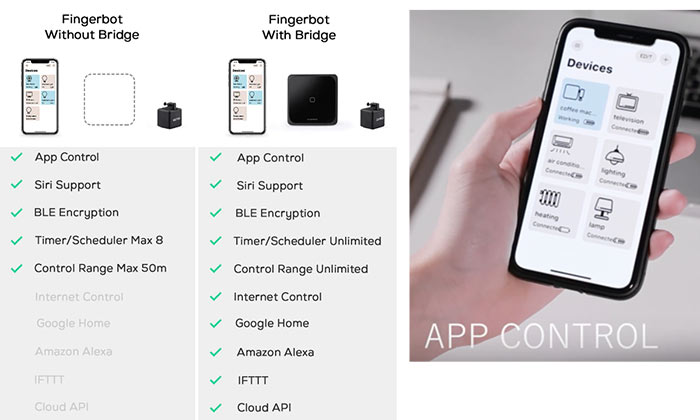 Plan for launch
As of now, the product in the development stage, with a few prototypes ready for use. The company has started a crowdfunding campaign on Kickstarter, which has been highly successful. They have managed to raise over $100,000 from more than 1000 backers, surpassing their goal of $20,000 easily.
The product is scheduled to shipping to backers in May 2020. The pledges start from $25, where you will get the basic rewards. As the pledge amount increases, the rewards will increase as well. The company should start the next stage of production and ship the first batches immediately. This product has massive potential and could be the next big thing.
Adaprox should make the most of the first-mover advantage as there is no other product like this in the market. If the company manages to raise more capital, they should begin taking large scale orders by the end of this year.
About the Company
Adaprox is a tech company based in Sydney, Australia. Founded by James Yao, they are a group of engineers, programmers and designers who are dedicated to creating a user-friendly smart home. They aim to make our everyday lives more convenient by developing innovative products. Similar to Fingerbot, they have another product called SwitchRobot that serves similar purposes. Adaprox makes use of Internet of Things to provide cost-effective solutions to our daily problems.